Mrs Angie Shaw-Davidson
Wonderful to be playing golf again only four weeks after my arthroscopy. Almost back to normal having followed all the advice regarding physio, exercise, ice etc. I have complete confidence in Professor Jari and the team of professionals looking after me and know I can get support at any stage if I need it
Mrs. Angie Shaw-Davidson
Anon
I am extremely happy with my recent knee surgery (knee arthroscopy) by Professor Jari at the Alexander Hospital in Cheadle. I was in a lot of discomforts before my operation and amazed at the speed of my recovery. I am already back in the gym, under strict supervision, and enjoying my active life again.
I can't thank you enough, my stay was such a positive experience, not a usual response to a hospital stay.
Zac Hill
Professor Jari performed my ACL reconstruction in August of 2017. I am about to begin my 2nd season of rugby since my surgery.
From last October I played 70-80 minutes of nearly every game (other little knocks depending). I worked my way up from 4th XV to 2nd XV by the end of the season. In addition to this I have also climbed Ben Nevis, Helvellyn and walked Hadrian's Wall.
It would be greatly appreciated if you could pass this message of thanks on to Professor Jari.
Zac Hill (ACL reconstruction, August 2017)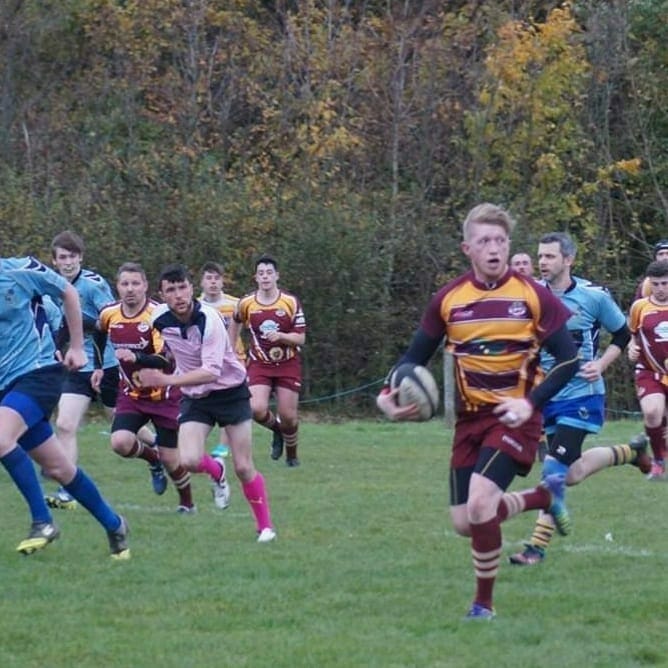 Patricia R Jones
At the end of January this year I had a knee replacement operation at the Alexandra Hospital, performed by Professor Jari. the care and treatment I received from Professor Jari and the staff at the Alexandra Hospital was second to none. the follow up care by Professor Jari was excellent and I am extremely happy with the result and I would have no hesitation in recommending Professor Jari to anyone who needed similar treatment to myself.
Patricia R Jones
Ruth Elliott
After many years of progressive knee pain due to arthritis and wear and tear I was referred to see Professor Jari (The Knee Doc) at the Spire Hospital Didsbury.
After several consultations, he gave me several options to consider the outcome was that I needed a total knee replacement.
Never having had surgery and approaching 70 years of age I was understandably nervous.
Professor Jari took the time to fully explain the procedure from start to finish alleviating any worries I had.
On the day of the operation, I was told I was going to have a Spinal block,
once again all procedures were clearly explained to me.
On waking from the operation my care could not have been better with everything arranged to aid my recovery.
The whole team was excellent as was Liz in physiotherapy.
I would like to thank Professor Jari for his skill and professionalism and wouldn't hesitate to recommend him to anyone needing knee surgery.
Special thanks to Claire the practice manager who went above and beyond to help and make sure everything went perfect for me.
Kind regards,
Ruth Elliott
Glenis Dronsfield
Would I have another knee replacement if one was necessary, in a heartbeat, and I would want Professor Jari to do it.
The thought of a stay in hospital made me a little anxious, but the experience was fine, as I was guided and informed every step of the way, clearly and pleasantly.
when I saw Professor Jari at my final clinic appointment, he asked me how I was feeling, my reply was "fantastic".
I can't think him enough for his expertise, he's a great surgeon.
Thank you so much,
Glenis Dronsfield
Anon 1
After many months of physio, I self-referred to the Knee Doctor. An initial appointment was received within weeks and scans & x-rays followed. Once Professor Jari had a plan to put to me. After suffering from knee issues for 25 years post-rugby I opted for surgery. The whole process was very smooth and I was in the Manchester Spire hospital day surgery within weeks.
I am now four weeks post-surgery and nearly mended fully. I am pain-free and back in the gym; something I haven't done in a while.
Laurence Newman
I have seen Professor Jari over the years for the management of various knee problems as I have continued to play 11 aside amateur football into my mid 40's. December 2018 he repaired my cartilage and gave my left knee a 'clean up' as this knee had previous ACL reconstruction. 12 weeks post operation I was back in training and played competitively inside 4 months for Styal Football Club in the Mid Cheshire football league.
As part of the process, he recommended injection therapy using Hyaluronic Acid which was explained as helpful for the early stages of arthritis under the knee cap. I had 5 painless injections and my mobility and strength feel significantly improved. I have noticed the ability to squat and lunge far better than before as my overall my range of movement feels improved and the knee feels as good as I have felt.
Whilst noting it is likely time to start slowing down from competitive sport to avoid issues in my 50s, Professor Jari appreciated this remains an important part of my life and prescribed an appropriate course of action that I have been delighted with. As ever Claire has been supportive and provided impeccable care. I intend to have further injections in my other knee to help mobility there too as part of my build up for a masters football competition in Mexico this summer.
Thank you, Professor Jari and team, and for anyone looking for a Knee specialist I would highly recommend seeing The Knee Doc!
Laurence Newman
T Gandy
Following a Total Knee Replacement with Professor Jari we had discussed that my knee would take time to heal as it had with previous surgery on that knee. However timely intervention and expert advice given by Professor Jari, I have finally begun to feel the benefits of a Total Knee Replacement. I am now developing strength in my leg and no longer walk with a limp which is fantastic.
It has not been easy, even difficult at times and has taken several months. Throughout that time, I have continued physio exercises and medicated as necessary. With advice from Professor Jari and his team I have learnt to take a step back to go forward and as a result of that I am now making progress and have now resumed sports such as cycling and swimming and continue to make progress and improve my fitness.
I would like to say a huge thanks to Professor Jarfi for his excellent surgical skills, guiding me and making appropriate clinical decisions based on our consultations, his patience and wise words. Also, I would like to say thanks to the surgical team and a special thanks particularly to Claire at Knee Doc who has been amazing, so helpful and makes so much happen. I would also like to say a special thanks to Ste at Wolves Physio, for sharing his clinical skills and expertise.
Once again, I would like to say thank you and would have no hesitation in recommending Professor Jari and his team.
T Gandy
Kevin
My first meeting with Professor Jari was very clinical and at times I thought he was trying to talk me out of the procedure. In fact he was going through, in some detail, all the aspects that need to be considered before committing to surgery, which I really appreciated. It turned out that I needed a total knee replacement and once I decided to go ahead the whole process was very easy and when I had some admin issues with my insurer, Claire Lawrence was on hand to smooth out the problem and keep the process flowing. Claire was also very helpful in managing the appointments with the various hospital departments.
The operation itself went very smoothly, from the introduction to the Anaesthetist, to waking up in recovery, it proved to be relatively stress-free.
It's been eight weeks since the operation now and my knee is getting stronger and more flexible every day, ably assisted by a really good physio which Claire recommended. I did a 4 mile walk yesterday and attend the gym regularly and can see the difference because I have, for the first time in a very long time, had no pain.
I would have no hesitation in recommending Professor Jari and his team who certainly provided me with a first class, five star service.
Kevin